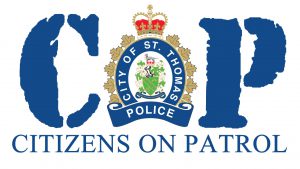 Citizens On Patrol Application
For more information about the Citizen's On Patrol Program see COP Information package for Community
Please complete all areas of this application.
Recruitment is on an as needed basis.
Applications can be submitted on line or dropped off in person at St. Thomas Police Service, 45 CASO Crossing, St Thomas, Ontario, N5R 0G7, to the attention of: COP Program Co-ordinator.
Please note that only applicants selected for an interview will be contacted.
By completing and clicking submit on this application, you are agreeing to submit to a background check/investigation.
St Thomas Police Service is an equal opportunity employer.